Want to get awesome links without awesome content? Think again — you need to invest incredible content assets first. This is a great SEO strategy that works across the board, from B2B to B2C, from Fortune 500 companies to start-ups.  
Let's start with defining a linkable asset — it's a mega piece of content on your domain that is just asking to be mentioned, shared, and linked to. A linkable asset should be a core element of your SEO strategy; it's a central feature of the popular skyscraper method coined by Brian Dean. Why do you need a content asset? Think of it like this— links or not, you should be creating awesome branded content. It will help advertise your expertise and credibility to the world. If you only ever publish inward-looking company news, you aren't making the most of your content budget. You are better off axing these posts, and concentrating your efforts around creating something extraordinary for your audience.
So, what makes a great linkable asset? An asset could be many things — they take numerous formats. In essence, it's something that's ripe for adoption by an active user group, but it doesn't always need to be a mega long, or mega expensive piece of content. What matters above everything is value. Here are some examples of linkable assets, as well as how you can get started on a few of them in just 60 short minutes!
Help people help themselves
Why would people go out of their way to endorse you by linking to your content? Because they think you're great? Maybe...but it's more likely that you've managed to create something that's useful to them.
Create something useful and tangible that people can actually use for themselves. Help them complete a task, solve a problem, look good in front of their peers, or learn something new.
Utility is why content downloads and checklists are so popular — and they can easily be repurposed for lead generation. But don't stop at lists — think outside the box: why not create a calculator or a tool that people need? This heart rate calculator is a good example of a simple online resource that doesn't take much to create and maintain.
Hoover brand Bissell have created a comprehensive cleaning microsite, which includes plenty of useful seasonal cleaning tips. They give users a very simple PDF: a thorough checklist of how to spring clean a home (including tips on how to clean behind the fridge)!
It's a great example of how a content download doesn't need to be a fancy whitepaper in order to work — it can just be a simple asset that helps users help themselves. Think about how a similar approach could be used for your business.
If you want to go for more of a training angle, why not collate a list of useful resources to help people help themselves? This is one of the easiest ways to offer value to your audience without too much work. You probably already know a lot of useful tips, tools, and resources, but always keep a tab on new resources using tools like Evernote.
How to get started in an hour
Focus on audience knowledge and value — you want something that is going to be really useful for people, not a vanity piece for yourself. Doing some keyword research, and specifically focusing on questions using tools like Answer the Public is a good place to start — it will help pinpoint what people want to know..
Create a simple PDF checklist that will be at the heart of your content resource — it doesn't have to be anything fancy, just make sure it doesn't include any fluff. It's about distilling down pure value.
Curate useful resources on a page or a microsite if you've gone down the curation angle — make sure to brand it up nicely and underline your value proposition.
If you need a tool or a calculator developed, spend time defining exactly what you need it to do before passing it onto your developer or web team.
Always include a share incentive — ask people to tag friends or share the resource with interested parties — you don't get if you don't ask.
After doing this a few times, you can start to track your engagement metrics and backlinks — react to data and keep creating more of the content that works.
Go to bloggers
Bloggers and vloggers have a lot of information and insight to share — don't use them just for publishing, use them as source vloggers
and asking them to share their expertise, opinion, or tips can be a great way to get user-generated content that has real perspective. These digital-savvy entrepreneurs are well-connected with brands and other online influencers, so getting them involved also makes sense from a promotional angle.
Something like this is best done at scale — you want to outreach to a lot of bloggers in order to get compelling enough answers. Be direct and respectful — don't waste their time. What to ask? The sky's the limit — but consider what would make a good story first.
Use other people's content and reskin it
Curating is a savvy marketer's weapon. All you need to do is take what's already out there, reskin it, and off you go!
These popular Simply Business guides (Facebook pictured) are curated lists of brilliant small business content. They've earned loads of social engagement and links. Why?
People love the flowchart yes/no format (it appeals to our instincts).
The guides are consistent and well-branded; each one is a standalone resource people can share and link to.
The guides have a clear value proposition and niche topic, and they deliver on their promise.
Simply Businessmakesharing easy — they even include a blog embed.
They only recommend credible, tried-and-tested resources that are going to help the user.
How to get started in an hour
Choose a few topics you think your audience would like some help with, and start mapping out resources for each one. Segment resources out into different groups like beginner/intermediate/expert, and mix it up with articles, videos, guides, and graphics.
As well as gathering resources, you need to spend time defining a format that will work for users — you want something that's standalone with interesting elements (e.g. not just a list of hyperlinks).
Use data mining & graphics
Data feeds our curiosity gap, and graphics are easy to digest and share.
People seem to have had a fetish for data in visual form. There is something supremely satisfying about infographics, maps, and visual data representations — and they could almost be about anything.
This tea-drinking map is a great example of how any data can be made into an attractive map and a piece of content. Content like this is perfect for outreach and for getting published on external sites. Reaching out to journalists with a story or a graphic that's backed up by data or statistics gives your brand credibility.
There are loads of places to get free data:
The Office for National Statistics is always a good place to start — but you can also use free survey tools to gather data from your mailing list and audience.
How to get started in an hour
The key is to find some good data that's going to interest people — you can go micro or macro, but try to find a hook somewhere. You want data that will tell a compelling story.
Start creating a map or a graphic (you can use a designer, or go with the budget option like Piktochart or Powerpoint).
Create a quick top and tail roundup that helps 'sell' your data.
Create a new definition
Coming up with a new term or coining a phrase isn't necessarily as hard as you think (after all, it's what Brian Dean did with the skyscraper method). If you can become the knowledge base for a certain term or definition that's widely adopted by others, you will get mentions and links as an expert. Set up Google Alerts on your term so you're notified of people using it!
Go left field
Sometimes you get links and shares because you create something unique that people can't find anywhere else. And content doesn't always need to be a serious business — fun things like games and meme generators can be hugely powerful, money-making assets.
Reddit is a good place to research the wackier side of the Internet — you can pretty much find anything and everything on there. Consider whether a cheeky social media roundup would be a good a way to go — but be mindful of copyright, and being too click-baity.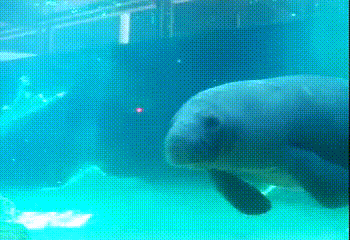 Who could resist a calming manatee meme?
Another strategy to consider is rounding up quotes — people love to share motivational quotes and mantras, and a lot of the good ones are now in the public domain. Quotes work really well as graphics on social media — it's the perfect way to promote your resource.
Survey the field
A lot of brands and businesses forget that just by spending a few hours looking at your competitors, you can get a tonne of interesting content examples. Looking at what other people are doing is a great way to see how you could be doing things better — spend time looking at what content strategies are working for other people in your niche right now.
How to find great niche content? You can simply use Google, but a tool like Buzzsumo is also good for content discovery. Quora is also a goldmine for finding out what's on people's minds right now, so start following all the relevant topics.
Be the ultimate
Being the ultimate resource for a niche audience is a great way to attract the attention of publications and serve a passionate user group.
There are a lot of 'ultimate guides' out there already, so your best bet is to stand out by serving a laser-focused niche, or addressing a new emerging trend. Ultimate guides to trending topics like matcha, unicorns, ombre hair, mermaid hair, hipster beards, golden milk and other pop culture phenomena do really well as search interest soars.
The Idle Man's beard styling guide is riding the hipster beard wave.
Of course, if you are a serious B2B business you probably wouldn't want to suddenly start talking about beards, but there is a lot of crossover between pop culture and business. Taking your digital brand out of its comfort zone can pay off.
Brands that are always focused on what is ultimate for them, won't do so well online; in order to succeed with content, you need to think about what is going to be ultimate for your audience.
How to get started in an hour
It can be hard to be genuinely 'ultimate' in an hour, but you can definitely get part of the way there by scoping out your resource. Do your research and map out all the different topics you will need to cover to be truly the ultimate guide.
Remember, all the usual speed hacks apply — collate resources and information from around the web to bolster your own content.
Start collecting insider input by sending out some quick emails to niche influencers. Tell them you need their help in order to create the ultimate resource, and that you would like their opinion on the one thing that you should definitely include.
Interview the boss
Want to create some exceptional content? Why not interview the boss?
You are probably sitting next to some pretty cool people right now. The trouble is, it's hard to get information and content out of extremely busy people like executives. Which is a shame, because they have all the cool stories thanks to their experience and travels. Remember, the 'boss' might not be the actual boss — it could be that you need to get close to your engineers, the product team, customer support. Find out where in your organisation your need to go to cash in on untapped knowledge.
How to get started in an hour
Busy people probably won't have the chance to answer emails and questionnaires — content marketing and writing isn't part of their job description after all. Dictation software like Dragon can help you speed up the process of gathering insight by interviewing people. Take any barriers out of the equation by going to their desks.
Prep questions in advance so that the interview goes as smoothly as possible — once nerves kick in you will probably find it hard to think on the spot.
Filmsomeoftheinterview, and use outtakes as clips to promote the content on social.
The Q&A format is compelling, but people tend to ramble on and answer a few questions at once, so spend time editing copy down into soundbites.
If you've managed to get someone really cool on board, make sure that they help you promote it by sending it out to their personal network.
Merge and update
Great content that attracts links has to be thorough and detailed. Instead of going off and spending loads of time on creating a brand-new resource, why not survey what you've already got?
If you have already published a lot of good content on your blog, you can always merge a few posts together to create a mega-long article. You will probably have to spend a bit of time editing and breaking the article up with images, but this could be a real timesaver.
How to get started in an hour
This is one you may even get to finish in an hour! Just look through Google Analytics at some of your most-visited posts and see whether you can pool them together coherently. Just update and tweak content so that you don't completely duplicate what you've done before.
The importance of outreach & promotion
So you've created an awesome piece of content and you've sent it out to your mailing list. What next? These assets aren't going to work unless you invest heavily in promotion; the whole point of this content is the promotion strategy. Don't let yourself lose momentum at this crucial stage.
Here are some content outreach tips:
Reach out to sites and publishers using a tiered approach: take the time to write are all y personalised email when you need.
Promotion should be ongoing — it's an ongoing strategy.
You might need to looking into paid advertising as well — a small budget can help support
Use social media for outreach, including finding contacts and sites.
Include a share call to action and try to build in shareability.
It might take you awhile to find your content groove, but it's worth it! Great digital content is the secret weapon of many a start up success, and it's one of the best ways that you can set yourself apart as a niche expert. Another great thing about content? It helps you build relationships with clients and customers. What's your next bit of mega content going to be?